Jacques Girard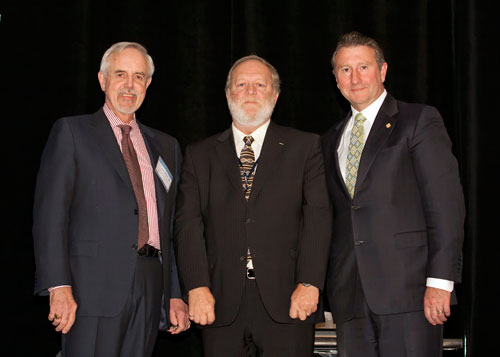 Jacques Girard (photo, centre) is the 2012 recipient of the Jean P. Carrière Award. He is accompanied by John Walter, SCC CEO (left), and Dr. W. A. Sam Shaw, SCC Interim Chair (right).
Jacques Girard is well-known for his active role within the standardization industry and his dedication to promoting the French language within this industry. A civil engineering graduate from Université Laval in 1975, Mr. Girard was senior partner with a consulting engineering firm until the late 1990s. He was also an active member of the Association canadienne des laboratoires d'essais, which he chaired in 1982.
In 1990, Mr. Girard was appointed to the Standards Council of Canada's (SCC's) governing Council and joined SCC's Advisory Committee on Quality. This committee developed an accreditation structure for ISO 9000 quality system registration bodies in Canada. Mr. Girard has also been a member of several other SCC advisory committees and was chair of the Standards Development Organizations Advisory Committee.
From 1998 to 2011, Mr. Girard served as director of the Bureau de normalisation du Québec (BNQ), a standards development and conformity assessment body. Under Mr. Girard's leadership, BNQ helped establish the Réseau Normalisation et Francophonie (RNF), through a partnership with the Association française de normalisation. Mr. Girard chairs the RNF—which counts 28 member countries—whose mission is to help French-speaking developing countries become involved in standardization.
In 2010, Mr. Girard was awarded the title of Knight of the Order of Arts and Letters of France, in recognition of his outstanding contributions to enriching the French language and culture within the standardization industry.