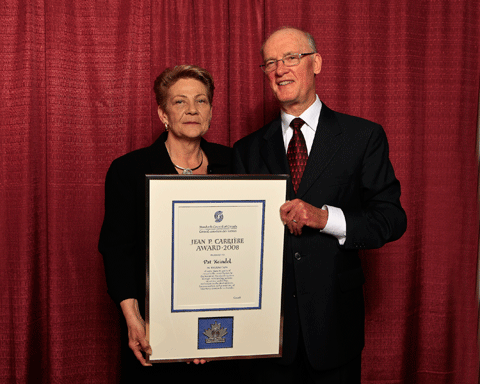 Pat Keindel (photo, left) is the 2008 recipient of the Jean P. Carrière Award accompanied by Hugh Krentz, Chair of the SCC (photo, right).
Mrs. Pat Keindel
As President, Standards, at the Canadian Standards Association (CSA) from 2001 to 2007, Pat Keindel oversaw a portfolio of more than 3,000 standards, codes and products for the use of business, industry, regulators, and members of the public. She was also responsible for the CSA Learning Centre, which offers public seminars and workshops, onsite and customized education, and web-based training.
Ms. Keindel's career at CSA is distinguished by consistent innovation and inspired leadership. She championed the concept and introduction of "information products" and led ground-breaking developments such as state-of-the-art interactive "smart standards" and on ine standards development. She has navigated the organization through uncharted territory, encouraging the development of such standards as fuel cells; sustainable forest management; cell, tissue and organ transplantation; and customer service for people with disabilities. Her legacy with CSA is one of outstanding direction to 200 staff and more than 9,000 members, combined with a passion and vision for how standards can contribute to society in new and important ways. Now the Vice-President, Business Development, at CSA Group, Ms. Keindel is responsible for the development of new business initiatives, acquisition and mergers, and the promotion of CSA Group and all of its divisions.
Ms. Keindel began her career standards with the Standards Council of Canada, and has since maintained a close partnership and remained actively involved on SCC advisory committees.
For these and other achievements, SCC is pleased to present Ms. Keindel with the Jean P. Carrière Award for distinguished service to Canadian standardization.