Canadian Dental Association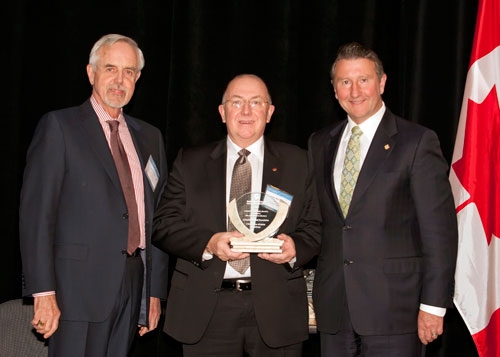 Dr. Gary MacDonald, Vice-President of the Canadian Dental Association (photo, centre), receives the 2012 SCC Corporate Achievement Award on behalf of the Canadian Dental Association. He is accompanied by John Walter, SCC CEO (left), and Dr. W. A. Sam Shaw, SCC Interim Chair (right).
Founded in 1902, the Canadian Dental Association (CDA) is Canada's national voice for dentistry. The association is dedicated to the advancement and leadership of a unified profession and to the promotion of optimal oral health. CDA hosts the secretariat of International Organization for Standardization (ISO)/Technical Committee (TC) 106. This committee contributes to improved global health by producing standards for oral healthcare, including terms and definitions; performance, safety and specification requirements of dental products; and clinically relevant laboratory test methods. In support of Canadian participation in ISO/TC 106, CDA also provides services to the Canadian Advisory Committee to ISO/TC 106 of SCC. Through the years, CDA's dedication to standardization has significantly impacted Canadians' oral health.