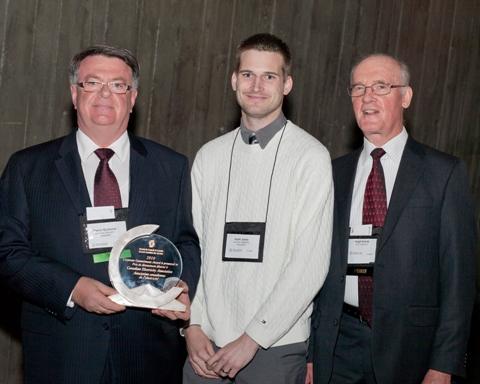 Representing the CEA, Pierre Guimond (photo, left) and Keith Jansa (photo, centre), are the 2010 recipients of the Corporate Commitment Award, accompanied by SCC Chairman, Hugh Krentz (photo, right).
Canadian Electricity Association
Founded in 1891, the Canadian Electricity Association (CEA) is the national forum and voice of the evolving electricity business in Canada. The Association contributes to the regional, national and international success of its members through the delivery of quality value-added services. From vertically integrated electric utilities, to power marketers, to the manufacturers and suppliers of materials, technology and services that keep the industry running smoothly— all are represented by this national industry association. Since 1993, CEA has implemented an industry program on standardization that promotes the development and usage of consensus-based standards and guidelines among Canadian electrical utilities and coordinates member participation in international, national and regional standards development. The CEA standardization activities include providing funding support for the development and publishing of standards impacting the electricity industry and its customers in a global competitive market.