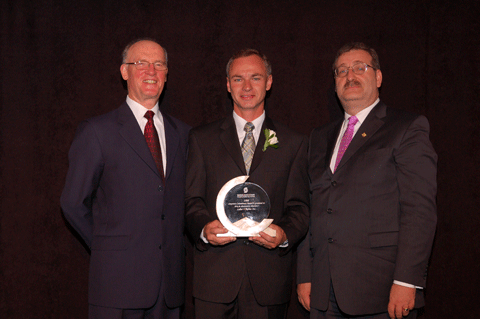 Accompanied by Hugh Krentz, Chairman SCC (photo left) and Rae Dulmage, Underwriters Laboratories of Canada (photo right), Mr. Eric Esselink (photo, centre) accepted the 2008 Corporate Commitment Award on behalf of Leber/Rubes Inc.
Leber/Rubes Inc.
Leber/Rubes Inc. (LRI) is a consulting engineering firm that specializes in providing fire protection engineering services. Since it was established by Fred Leber and Jonathan Rubes in 1986, the company has offered its expertise to more than 9,000 projects across Canada and in the United States, as well as various countries in Asia, Europe, and South America. Its services include Building and Fire Code application, interpretation and equivalency determination, as well as system design, physical system testing/commissioning, and fire safety plans.
LRI is dedicated to promoting volunteer service, particularly in the area of standards development and fire safety promotion. The company has sponsored the travel and participation costs of its employees to take part in national and international standards technical committees. LRI employees currently participate in more than 30 standards committees, and hold seven Chair positions.
The company's founders are also personally actively involved in standardization activities. Between them, Mr. Leber and Mr. Rubes have taken roles in a total of 10 standards committees.
LRI's dedication to advancing the role of standardization in Canada and internationally is part of the company's overall commitment to promoting innovation and the quick implementation of safety codes and standards so as to secure community health and safety. For this dedication, SCC is pleased to present LRI with the Corporate Commitment Award.