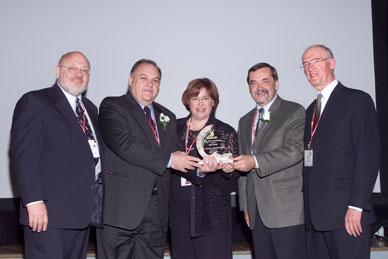 Accompanied by Peter Clark, Executive Director of SCC (left) and Hugh Krentz, Chairman SCC (far right), Gilles Béland, Jocelyne Fortin and Jacques Régis (photo, centre) represented Hydro Québec and received the 2004 Corporate Commitment Award.
Hydro-Québec
Hydro-Québec is one of the largest producers, transition providers and distributors of electricity in North America. Over the last two decades it has been an important supporter of standardization activities and in particular the work overseen by the SCC – both nationally and internationally – through its significant commitment of both human and financial resources.
Hydro-Québec has repeatedly demonstrated leadership in the standardization forum by: promoting the use of ISO 9001 and other international standards in its procurement policies, participating in SCC-accredited conformity assessment activities, and providing volunteers and expertise for international and national standards development and policy committees.
On Hydro-Québec's behalf, quality advisor Gilles Béland has lent his conformity assessment knowledge and expertise to several domestic and international standards development and standards policy committees. In addition to Mr. Béland's contributions, Hydro-Québec provides over 50 contributing members to Canada's international involvement at the International Electrotchnical Commission (IEC) and the International Organization for Standardization (ISO), including leadership positions in five IEC technical committees or subcommittees and convenors for six IEC working groups.
Of recent note, was Hydro-Québec's crucial role in the successful hosting by the SCC of the IEC Annual General Meeting in October 2003. As the event's largest corporate sponsor, Hydro-Québec was actively involved over a three-year planning period in helping to shape the event, which brought together more than 1,000 international IEC delegates in Montreal.