Canadian mineral analysts play a critical role in supporting this country's mining sector. At the upcoming Canadian Mineral Analysts (CMA) 2013 Annual Conference and Exhibition in Toronto, Ontario, the Standards Council of Canada (SCC) will present on its increased support for mineral analysis laboratories and their mining customers. This support is being provided through discussion regarding recent revisions to Canadian Procedural Document CAN-P-1579 - Requirements for the Accreditation of Mineral Testing Laboratories.
Thriving mining sector
Canada is one of the world's largest mining nations, having mining operations in more than 100 countries, according to Natural Resources Canada (NRCan). Within Canada, there are more than 200 active mines, which generate some 60 minerals and metals.
In 2012, Canada's mineral exports amounted to $92.4 billion – more than 20 per cent of this nation's total exports, according to NRCan. Canada was the world's top destination for mineral exploration last year. In 2011, Canada's mining sector contributed $63 billion to Canada's GDP.
SCC accreditation supports mining growth
SCC is contributing to the growing success of Canada's mining sector. Since 1981, through its Laboratory Accreditation Program, SCC has been helping Canadian mineral analysis laboratories – and, as a result, their mining customers – start and expand their business with confidence. Under this program, mineral analysis testing is one of 10 SCC Accreditation Program Specialty Areas.
Since 2009, the number of SCC-accredited mineral analysis customers has risen nearly 150 per cent, to 32 customers.
Benefits of credible test results
"Generating credible test results enables mining companies — including those that are customers of SCC-accredited laboratories — to better manage investor relations and to establish public confidence in their mining stocks," explains SCC's Vice-President, Accreditation Services, Chantal Guay. "SCC-accredited laboratories, as well as their customers, gain a competitive edge by attesting conformance to nationally and internationally recognized standards and guides."
The International Organization for Standardization (ISO)/International Electrotechnical Commission (IEC) standard ISO/IEC 17025 - General requirements for the competence of testing and calibration laboratories, and CAN-P-1579, are two key documents used by mineral analysis testing laboratories worldwide. SCC accredits to both ISO/IEC 17025 and companion document CAN-P-1579.
Working group revising CAN-P-1579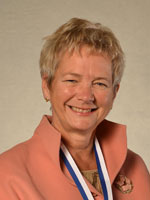 Jane Weitzel, an active member of SCC's Mineral Analysis Working Group (MAWG)
CAN-P-1579 has been rigorously reviewed and revised by SCC's Mineral Analysis Working Group (MAWG) over the past year. MAWG's goal has been to magnify and clarify several technical requirements contained within the document.
According to mineral analysis expert Jane Weitzel, an active member of MAWG engaged to examine CAN-P-1579, "MAWG revised CAN-P-1579 so that it continues to be a useful guidance document, current with today's management and quality theories.
"CAN-P-1579 will now contain information that laboratories and auditors can more easily understand and comply with its requirements," she says. "For laboratories, this means more effective and efficient management systems."
SCC's critical role
Weitzel recognizes the critical role that SCC plays in ensuring the success of Canada's mineral analysis testing laboratories. "Analytical chemistry is going through a major change," she says. "Mineral analysts are now using target measurement uncertainty as a critical tool to produce accurate data.
"The accreditation of laboratories to ISO/IEC 17025 and CAN-P-1579 ensures that analysts' estimated uncertainty is complete and meets the requirements of the international standard," Weitzel explains.
Strong, bright future
According to Weitzel, the future for accreditation services used by mineral analysis laboratories is looking stronger and brighter. "More laboratories are obtaining accreditation. I am receiving inquiries (about accreditation) from laboratories in China, South America and (other countries) around the world," she says. "A strong indicator of the importance of accreditation is that, in many cases, it is now the customer who requests the accreditation."
Learn more at CMA 2013 and at World Standards Day
Learn more about SCC's increased support for mineral analysis laboratories at CMA 2013, running September 23-26 in Toronto, Ontario. Carol Campbell, SCC Program Manager, Accreditation Services, will present and obtain input on the latest revisions to CAN-P-1579 and will provide additional information at SCC's booth #38. For more information on SCC's Laboratory Accreditation Program, please contact SCC at infomineral@scc.ca.
To discover more about ISO/IEC 17025 and how international standards and SCC support testing laboratories, attend (in person or via webcast) SCC's World Standards Day (WSD) 2013 event on October 16, being held in Vancouver, British Columbia. Weitzel will be a WSD panel member, discussing how international standards ensure quality laboratory results.