Industry Canada's Deputy Minister, John Knubley, presents opening remarks at SCC's 2012 World Standards Day event.
Dynamic presentations and an energized panel discussion, all focused on energy efficiency standardization, underscored World Standards Day (WSD) 2012 in Ottawa on October 12. Of the 25 per cent of attendees who evaluated the event, 80 per cent rated WSD 2012 as either "very good" or "excellent."
Hosted by the Standards Council of Canada (SCC), WSD 2012 delivered three clear messages to some 150 participants. First, energy efficiency standards are vital to Canada's economy and to reducing our environmental impact. Second, standards help drive innovation and new technology within the energy efficiency sector. And third, standards must quickly catch up to Canadian innovation, through increased harmonization of standards internationally.
SCC's WSD 2012 was held at the Ottawa Convention Centre. Each year in mid-October, SCC joins the international community in celebrating the importance of standards-related activities and pays tribute to the collaborative efforts of the thousands of individuals that give of their time and expertise to this important work.
The theme of the 43rd global WSD was Less waste, better results – Standards increase efficiency. In supporting this theme, SCC's full-morning session focused on energy efficiency in standards and accreditation.
Standards essential to innovation & productivity: Industry Canada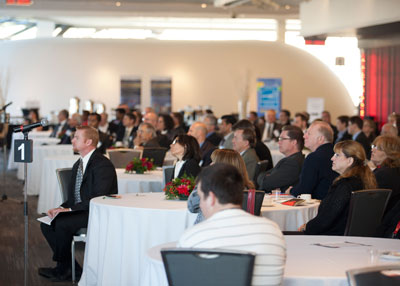 Audience listens to Deputy Minister Knubley's opening remarks.
Industry Canada's Deputy Minister, John Knubley, pointed to the importance of standards—particularly amid the current global economic situation—during his opening remarks. "The global financial crisis showed how fundamentally interconnected the global economy truly is, and I think you see that in the work that you do on standards," he maintained. "Standards are an essential component of economic analysis, innovation and productivity growth."
Knubley underlined the fact that "Standards are a necessary complement to regulations and are an important part of Canada's regulatory regime. Both for Canada and the United States, we must look at where standards and conformity assessment, here and abroad, can be aligned." He pointed out that SCC's work on harmonizing standards with the United States, carried out through the Canada-U.S. Regulatory Cooperation Council, is a significant priority for the Government of Canada.
The deputy minister also highlighted standards' contribution to Canada's overall competitiveness in the global marketplace, and stated that standards enhance Canadians' health and safety. He added, "Industry Canada fully supports the work of SCC, and all its partners, in shaping safe, efficient and effective standards."
SCC announces accreditation program for energy management systems
During his welcome speech, SCC's Chief Executive Officer, John Walter, announced the organization's launch of a new Energy Management Systems Accreditation Program.
"Our new program assesses the competence of bodies that intend to certify organizations in their implementation of the new ISO 50001 Energy Management Systems standard," he said. "This is the first program of its kind that SCC has established. We are very excited about the tangible benefits it will bring to the certification bodies that we accredit, as well as to the organizations that these bodies certify."
Published by the International Organization for Standardization (ISO) in June 2011, ISO 50001 is making it easier for organizations around the world to more easily implement energy-efficiency initiatives. "Many foresee that this voluntary international standard will transform the energy efficiency industry," said Walter.
NRCan providing funding support for ISO 50001
Carol Buckley, Director General of the Office of Energy Efficiency at Natural Resources Canada (NRCan), joined Walter onstage to discuss NRCan's involvement in ISO 50001. She said that Canada was the first of some 26 countries, to date, to adopt the international standard as its national energy management standard—about one week after its launch.
Through NRCan's Office of Energy Efficiency, the federal government is offering cost-shared assistance to industrial companies seeking to implement the new standard. "NRCan is a champion of ISO 50001," said Buckley. "We have funding to support the implementation of ISO 50001 over five years."
NRCan has piloted three ISO 50001-related projects, with the Ontario Power Authority, 3M Canada and NRCan's own laboratories. Along with Brazil, said Buckley, NRCan is leading the development of a guidance document for ISO 50001, which includes baselines and energy performance indicators.
Paving the Path to High-Performance Green Buildings and Smart Cities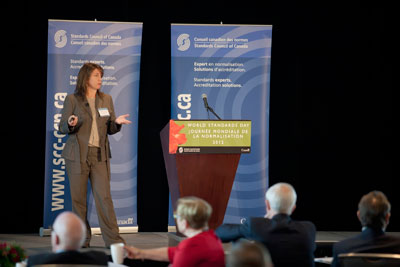 Melissa O'Mara, Vice President Education/Government Solutions and High-Performance Green Buildings at Schneider Electric, provided WSD's keynote address, on energy aspects of high-performance buildings.
Melissa O'Mara, Vice President Education/Government Solutions and High-Performance Green Buildings at Schneider Electric, provided WSD's keynote address, on energy aspects of high-performance buildings. O'Mara stressed the need to drive really high performance in the building space and in the energy sector.
"Why high-performance green buildings?" she asked. "By 2050, global energy demand will be doubled. During the same period, we need to reduce our CO₂ emissions by half." O'Mara cited the fact that, according to the World Business Council for Sustainable Development, buildings account for up to 40 per cent of energy use in most countries. In some cities, buildings drive as much as 70 per cent of the energy use. Net-zero energy buildings generate as much energy as they consume, which can greatly reduce the energy and carbon intensity in cities, she added.
However, O'Mara pointed out that much of the energy and emissions reduction work carried out today in these leading-edge buildings projects is not yet being incorporated into industry standards. "Standards are often an overlooked part of the path to high-performance buildings. How do we leverage standards to help us pave the path and accelerate this change?" she asked. "That's the challenge."
Driving standards that meet GE's own strength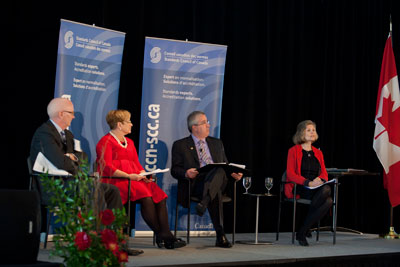 Panel f
rom left to right: Ross Hornby, Elizabeth McDonald, Ralph Suppa, and Carol Buckley.
A high-powered panel discussion topped off the morning's events. Panel moderator Ross Hornby, Vice-President, Government Affairs and Policy, GE Canada, led panelists Carol Buckley, Elizabeth McDonald (President and CEO, Canadian Energy Efficiency Alliance) and Ralph Suppa (President and General Manager, Canadian Institute of Plumbing & Heating) through a lively exchange on energy efficiency standardization.
GE Canada was involved in the development of the North American Smart Grid and Smart Metering, said Hornby. "We like to develop new cutting-edge technology. But if we're not ahead of the competition, we won't sell anything.
"GE uses standards to drive innovation," Hornby explained. "At GE, we can drive standards that meet our own strength."
The panel then discussed the underlying benefits of standards in energy efficiency, addressing how: standards benefit water efficiency; Canadian and international standards dovetail; energy efficiency standards benefit trade; and international standards are developed. The panel also discussed the importance of harmonizing standards, energy codes for buildings, standards versus regulations, and other key topics.
SCC's World Standards Day 2013 will be held next year, on October 16, in Vancouver, British Columbia. Mark your calendar now!