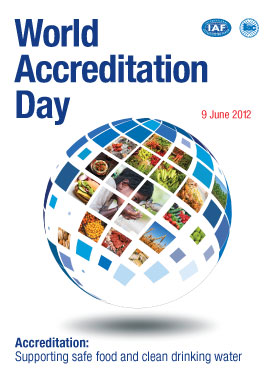 The International Accreditation Forum (IAF) and the International Laboratory Accreditation Cooperation (ILAC) have designated June 9 as World Accreditation Day. Celebrated annually, this event is intended to raise awareness around the globe of the importance of accreditation-related activities.
The theme of this year's World Accreditation Day is Accreditation – Supporting Safe Food and Clean Drinking Water. This theme highlights how accreditation supports the availability of safe food and clean drinking water. According to ILAC, "It is critical that consumers have confidence in the safety, security and authenticity of the food and water they consume. This confidence is gained through the application of common food safety management systems, supported by credible testing and inspection regimes."
Although the influence and use of accreditation continues to grow across a wide range of economies and domestic policy areas, there are still many more policy areas that could benefit from accreditation. These areas include healthcare, health and safety management, education, and waste management. For the healthcare industry, for instance, accreditation can strongly benefit organizations operating within Canada's food and water safety systems industry. It is therefore vital for organizations around the world, such as SCC, to raise awareness of these issues.
SCC supports World Accreditation Day 2012
SCC is honouring and celebrating World Accreditation Day 2012 through a variety of its own, as well as IAF-ILAC, communications vehicles:
How SCC helps ensure safe food, clean drinking water
The Standards Council of Canada (SCC) participates in and promotes World Accreditation Day each year. SCC accredits conformity assessment bodies, such as testing laboratories and product certification bodies, to internationally recognized standards. These bodies include dozens of organizations that operate within Canada's food and water safety systems industry, supporting and ensuring safe food and clean drinking water.
For more than 15 years, SCC has been helping to ensure the quality of testing results for drinking water. SCC is Canada's national accreditation body for environmental testing laboratories. As well, SCC accredits certification bodies for food safety management systems to the international standard ISO/IEC 17021, Conformity assessment –Requirements for bodies providing audit and certification of management systems.
A top priority of our federal government is to keep food safe for Canadians. A priority of our provincial, territorial and federal governments is to ensure clean drinking water.
Following the tragic 2008 listeriosis outbreak caused by contaminated ready-to-eat meat, the Government of Canada made significant investments in our nation's food safety system. As well, the Walkerton, Ontario contaminated water tragedy in 2000 was the catalyst for increased scrutiny across Canada of the systems in place to ensure the quality of our drinking water and the abilities of the people and organizations charged with overseeing them.
For provincial and territorial governments, the Walkerton tragedy brought into sharp focus the need for increased vigilance with respect to the testing and upkeep of water systems. The federal government has also stepped up its response to water quality issues since 2000, especially in the area of ensuring water quality on First Nations reserves across Canada.
Accreditation confirms the competence and integrity of conformity assessment activities that support government policies and regulations impacting Canadians' health, welfare and security, and the environment. SCC's accreditation services uphold the adage that an ounce of prevention is worth a pound of cure—particularly for an industry as vital to Canadians' health and safety as our food and water safety systems.
By being accredited, we get regular assessments, so we can have someone that can come in and evaluate what we're doing and highlight any areas for improvement. I think that's important, because you don't really get a lot of interaction with other places—so it's very important to have independent assessors to come and have a look at what you're doing. You have the confidence in the results generated by ISO 17025."

Dianne Culley, Quality Assurance Specialist of Accreditation, Courtland Microbiology Laboratory at Maple Leaf Foods Inc. in Kitchener, Ontario
Keep checking our website for new items describing how SCC supports safe food and clean drinking water for Canadians.