SCC's Governing Council reports to Parliament through the Minister of Innovation, Science and Economic Development. The organization's CEO is appointed by the Governor-in-Council on the recommendation of the Minister and reports directly to SCC's Governing Council. The Council is comprised of 13 members, 10 of whom are appointed by the Governor-in-Council through an Order-in-Council and the three other members sit on Governing Council by virtue of the Chair/Vice-Chair positions they hold on statutory committees established in the Standards Council of Canada Act. The Council is responsible for overseeing the strategic direction of the organization, ensuring fulfillment of the mandate and for providing guidance on governance matters.
SCC's Governing Council is appointed to represent a broad spectrum of stakeholder interests in the private sector and members have the knowledge and experience necessary to assist the Council in setting the strategic direction of the organization, providing direction on governance issues and ensuring the fulfillment of SCC's mandate. While Council members bring a variety of skill sets, varying perspectives and expertise to the work of Council, members are responsible for ensuring that decisions are taken in the best interest of SCC.
The Governing Council is also supported by two advisory committees:
Provincial-Territorial Advisory Committee (PTAC)

PTACis established in the Standards Council of Canada Act. PTAC promotes cooperation and communication between the provinces, territories and SCC, and provincial and territorial participation in Canadian standardization activities.


Standards Development Organizations Advisory Committee (SDOAC)

SDOAC is also established in the Standards Council of Canada Act. SDOAC makes recommendations to the Governing Council on matters related to voluntary standards development and promotes cooperation and communication between SCC and SCC-accredited SDOs.

SDOAC and PTAC report regularly to Council, through their Council representative, with respect to their actions. Their reports support SCC's strategic priorities and help develop standardization solutions that reduce duplication in federal, provincial and territorial regulations and standards.
Comings and Goings
The SCC Council Chair and members were actively engaged throughout the year to ensure that the organization had the members it needed to accomplish its mission. In April 2016, SDOAC Chair Rae Dulmage retired and Joseph Hosey was appointed SDOAC Chair. Council Vice-Chair W. A. Sam Shaw became Acting Council Chair in April 2016.
Setting Standardization Priorities
During the 2016–17 fiscal year, the Governing Council continued to focus on the important role standardization plays in supporting public policy objectives and providing value to Canadian governments, industry and consumers by ensuring that standards bolster Canada's efforts to build a more competitive and innovative economy. Council maintained a key role in setting and monitoring SCC's strategic direction and providing advice aimed at delivering greater value to Canada through standardization. The Council also reviewed governance aspects of SCC programming, such as standards development, National Standards of Canada and accreditation program requirements.
Members of SCC's Governing Council
(as of March 31, 2017)
W. A. Sam Shaw, PhD

President and Chief Academic Officer, Yellowhead Tribal College; Managing Partner, William Shaw & Associates
Acting Chair/Vice-Chair
Corporate Governance Committee Chair

Suzanne (Suzie) Gignac

Partner, Ernst & Young LLP
Audit Committee Chair

Claude Bédard, PhD

President, Adjuvants Euclid Canada Inc.

Richard Raymond

Private Sector Representative

Colin Clark

Chief Technical Officer, Brookfield Renewable

Kathryn Coll

President and Managing Partner, HR Atlantic

Glenn Feltham, PhD

President and CEO, Northern Alberta Institute of Technology

Merete Heggelund

Chief Administrative Officer, Municipal Services, City of Medicine Hat, Alberta

Joseph Hosey

General Manager, ULC Standards and Underwriters Laboratories of Canada Inc.
SDOAC Chair

Paul Pierlot

Senior Manager, Competitiveness Initiatives, Business Services Division, Entrepreneurship Manitoba, Government of Manitoba
PTAC Vice-Chair

Kathy Milsom

Corporate Director

Sara Jane Snook

Principal, SJD Management Ltd.

Jim Young

Director of Environment, Prince Edward Island Department of Communities, Lands and Environment
PTAC Chair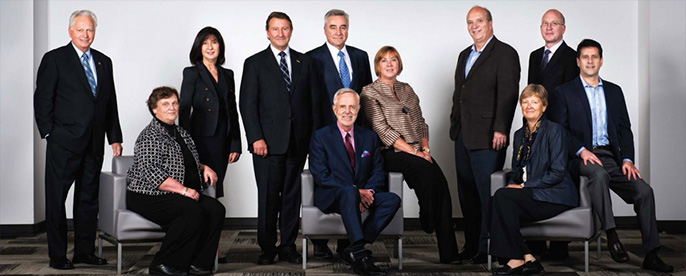 SCC's Governing Council and CEO: (standing left to right) Richard Raymond, Kathy Milsom, W. A. Sam Shaw (Acting Chair), Colin Clark, Glenn Feltham, Paul Pierlot, (seated left to right) Merete Heggelund, John Walter (CEO), Kathryn Coll, Sara Jane Snook and Joseph Hosey. Absent from photo: Claude Bédard, Suzanne Gignac and Jim Young.