SCC plays a critical role in supporting Canadian businesses as they expand and enter new export markets. By collaborating with national, regional and international standardization bodies from around the world, SCC helps to facilitate the trade of Canadian goods and services with these countries.
Regionally, SCC continues to reinforce its relationships with COPANT and PASC, particularly in helping them develop and implement their strategic plans. In 2016–17, we continued the planning work toward hosting the 2017 annual meetings for both COPANT and PASC, which will take place in Vancouver in spring 2017. The theme for the event will be Regional Collaboration in a Global Environment, reflecting SCC's strong belief in the need for cooperation within and between regions to leverage each other's strengths and drive strategic priorities forward. We also continue to strengthen our work with counterparts in Canada's key trading nations, including the United States and Mexico. North America is one of the most dynamic economic regions in the world and the economies of Canada, the United States and Mexico are deeply integrated. Maintaining close relationships with our North American neighbours is an important building block for increased regional standardization that supports the flow of trade and the success of Canada's exporters.
Internationally, SCC has Cooperation Agreements with the Standardization Administration of China (renewed in 2016), the American National Standards Institute, Mexico's Dirección General de Normas, Costa Rica's Instituto de Normas Técnicas de Costa Rica, and the Korean Agency for Technology and Standards. In 2016, SCC signed a bilateral cooperation agreement with the European co-operation for Accreditation (EA) to facilitate the implementation of the Conformity Assessment Protocol within the Canada-European Union Comprehensive Economic Trade Agreement. SCC also recently renewed its joint Cooperation Agreement with the European Committee for Standardization (CEN) and the European Committee for Electrotechnical Standardization (CENELEC), and became a Companion Standardization Body member with CEN.
By taking on international leadership positions and being involved in key standardization committees, Canada has considerable input into governance and policy at the international level. This enables Canadian participants to improve Canada's ability to compete globally by influencing and shaping marketplace rules. SCC's CEO John Walter was elected as the next president of ISO and began serving as president-elect January 1, 2017. He will become ISO President effective January 1, 2018, for a two-year term. Mr. Walter is also a member of COPANT's Board of Directors and PASC's Executive Council.
Chantal Guay, SCC's Vice-President, Accreditation Services Branch, is the Convener of the Strategic and Regulatory Group (STAR) with ISO's Committee on conformity assessment (CASCO). She also holds a position on the Chairman's Policy and Coordination Group (CPC) of CASCO. The CPC coordinates the technical work of CASCO and assists the CASCO Chair in identifying strategic conformity assessment issues. As a recognized and active member of the International Accreditation Forum, the International Laboratory Accreditation Cooperation, the Inter-American Accreditation Cooperation and the Asia Pacific Laboratory Accreditation Cooperation, SCC is also strategically positioned to influence and reinforce the value of accreditation both regionally and on the international stage.
As governments around the world look to standards and accreditation as a way to improve their competitiveness, SCC's international activities will remain critical to ensuring that standardization continues to help fuel Canada's economy. SCC's input at the international table helps to ensure that the needs, requirements and product attributes of Canadian manufacturers, as well as the needs of Canadian consumers, will be considered when international standards are being developed.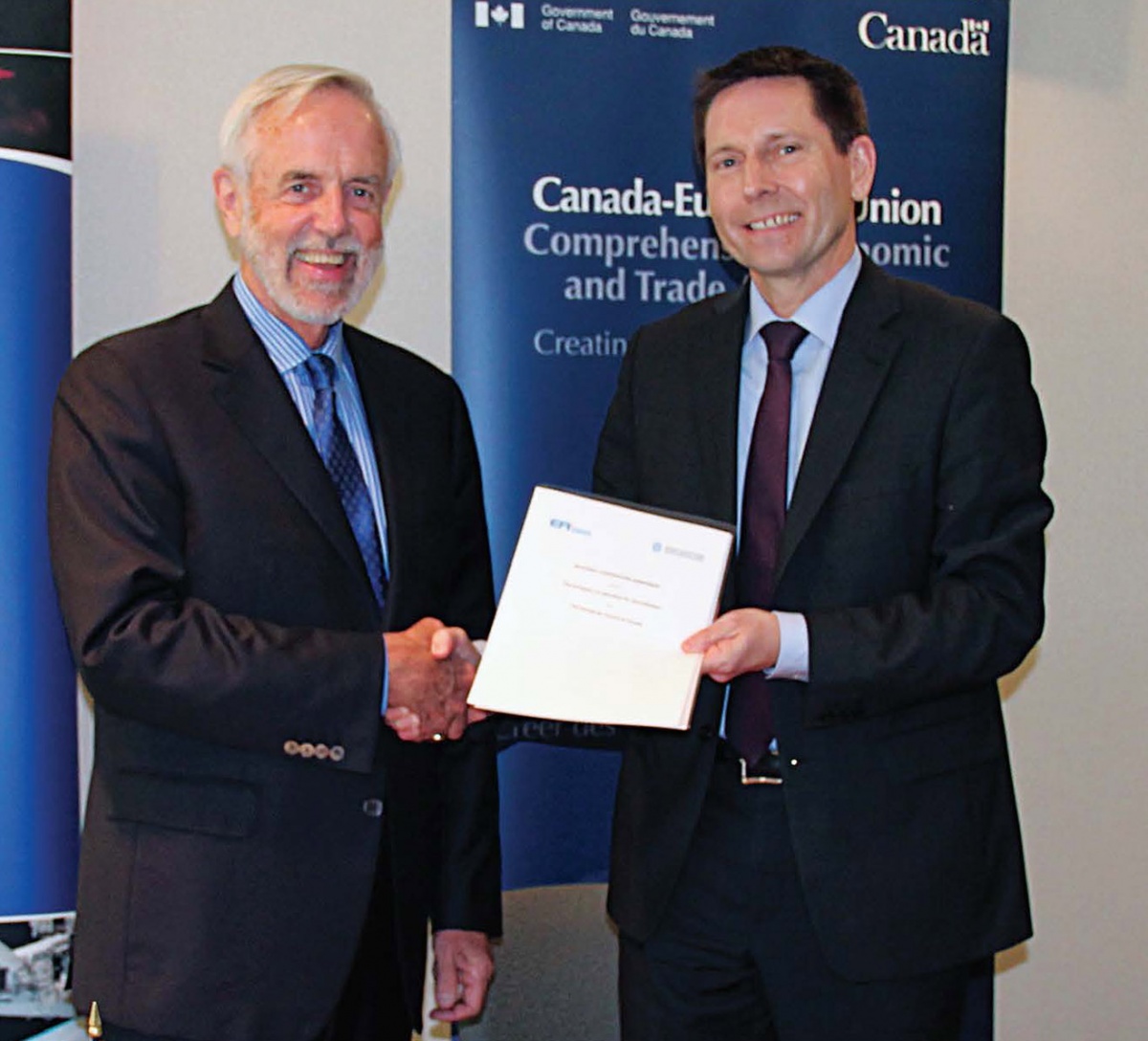 EA Executive Secretary Andreas Steinhorst and SCC CEO John Walter sign a Cooperation Agreement, June 2016.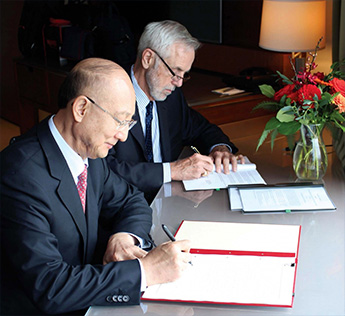 Minister Zhi Shuping of China's General Administration of Quality Supervision, Inspection and Quarantine (AQSIQ) and SCC CEO John Walter sign a Cooperation Arrangement, September 2016.