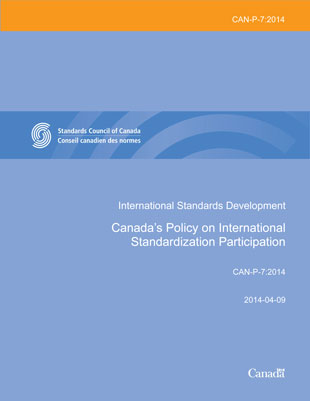 This document supercedes CAN-P-7:2011, Canadian Participation in ISO and IEC (November 2011). The scope for this new edition has been expanded to govern all Canadian international standardization activities. This document is effective as of April 30, 2014. A transition period to accommodate the implementation of the required changes terminates on July 1, 2014. During this transition period, participants may choose to adhere to CAN-P-7:2011. Commencing on July 1, 2014, only CAN-P-7:2014 applies. CAN-P-7:2011 will be withdrawn on July 1, 2014.
SCC is governed by ISO/IEC Statutes and Rules of Procedures when participating internationally. These statutes define SCC's roles and responsibilities as the representative of Canada at ISO, and in overseeing and sponsoring the Canadian National Committee of IEC (CANC/IEC). Canada's participation in standardization activities is also governed by ISO/IEC Directives. To foster and promote continual improvement in Canada's standardization network and to continue to effectively meet our international obligations, SCC has aligned its requirements to international standardization participation to those recognized in international practice.
The following further outlines the substantive changes made to CAN-P-7:2011:
New requirements and the introduction of role definitions offering greater flexibility in the type and depth of Canadian participation to suit the needs, abilities and interests of individual volunteers and experts;
Reducing duplication of effort by removing the limitation of a one-to-one international-national mirror committee relationship (i.e., One (1) SCC mirror committee for every one (1) international technical committee where Canada either participates or observes);
New normative references specific to the governing statutes, agreements and international codes of conduct;
Alignment of stakeholder categories to international practices and direct reference to definitions commonly found in ISO/IEC Guide 2, or the ISO/IEC Directives;
Aligned requirements specific to consensus-building, balance and impartiality to international practices;
Refinement of requirements to eliminate redundant information, and avoid circumlocution; and
Elimination of non-value added forms and templates.
These revisions aim to realize SCC's strategic priority to maximize the benefit of standards and to advance Canada's competitiveness and social well-being by "[a] stronger Canadian voice [being] established regionally and internationally to maximize the benefits of standards and accreditation for Canada's economic and social well-being" (SCC's Corporate Plan 2014-2019).