Private sector representative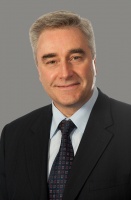 Colin Clark is Chief Technical Officer of Brookfield Renewable Energy Group, where he provides global leadership of all engineering and technical aspects of the generation businesses of Brookfield. He's a former Executive Vice-President of Brookfield Renewable Power, Senior Vice-President, Operations of Brookfield Power (Brascan Power), and President & CEO of Great Lakes Power Limited.
Colin is a graduate in electrical engineering from Queen's University at Kingston, and a Licensed Professional Engineer in Ontario and British Columbia. He has more than 35 years experience as an engineer and executive in all areas of electric power utilities operations and development. Mr. Clark has also been responsible for the design, construction, and evaluation of many electric power generation, transmission, and distribution projects.
In addition to being a member of the Standards Council of Canada Governing Council, Colin is a member of the Canadian National Committee of the International Electrotechnical Commission, a Director, Vice-President, and Chair of the Governance Committee of the International Hydropower Association, a Founding Life Member, Director, and Past-Chair of the Board of Directors of the Canadian Hydropower Association, Chair of the Generation Council and former Director of the Canadian Electricity Association, as well as a founder and former Co-Chair of the Ontario Water Power Association, a former Director of the Association of Power Producers of Ontario, and a member of many other industry associations and advisory bodies. He is the author or co-author of numerous professional papers, articles, presentations, and lectures.
Colin was the recipient of the IEEE Canada R. H. Tanner Industry Leadership Medal for 2011, and in 2015 he was inducted as a Fellow of the Engineering Institute of Canada.